Lap-dancing clubs don't sell sex, they sell a boundary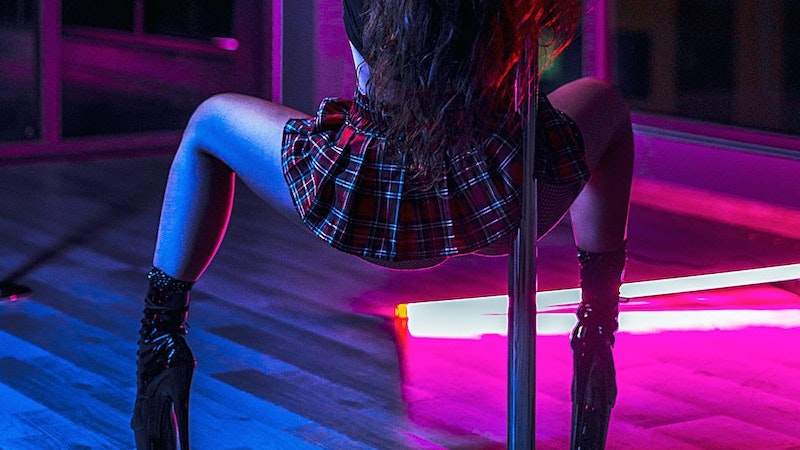 It's a common misconception that lap-dancing clubs, or gentlemen's clubs, as they are otherwise (and somewhat euphemistically) known, sell sex*. What they actually sell is an invisible boundary between fake sex and real sex.
The purpose of lap-dancing clubs is to give men the impression that they are sexually attractive and proficient when the reality is diametrically different.
A group of men from an office visit a club one night. Gorgeous, scantily clad women way above their usual league immediately accost them. The men get to hug and kiss them. Barely covered breasts are openly on display. The sexual rush is intoxicating. Huge prices are paid for drinks. In their eagerness to display their machismo, the men down their drinks in a gulp and order another round.
Charade
Perhaps there's some pole dancing. A striptease. Perhaps the men get to stuff notes into the dancers' G-strings. This plays on the false impression that the men are not only sexually confident but have access to these women. It's all a charade where the dancers sell the illusion of sexual prowess to willing men.
Then comes the lap-dance—the high point of the soiree and the point where the actual boundary between fake sex and real sex is reached. The man sits in a chair, prohibited from touching the woman who sits on his lap and rubs her G-string covered groin against the bulge in his trousers. Those two thin strips of fabric—her cotton G-string, his casual work chinos—are the boundary between the real and the imaginary.
Those two thin strips of fabric—her cotton G-string, his business casual chinos—are the boundary between the real and the imaginary
It's important to recognise that neither participant wants to cross this boundary. The dancer doesn't want to have sex with the half-drunk office Joe whose lap she squirms on with fake orgasmic excitement. Less obviously, deep down, the office Joe doesn't want to have sex with her.
That would require sexual confidence and the willingness to take responsibility for providing a beautiful, desirable woman with a satisfying sexual experience. Office Joe is incapable of either of these. In reality Joe is ashamed of his sexuality. He has little sexual experience. He may suffer from erectile dysfunction or premature ejaculation. Joe turns into a quivering mess at the prospect of undoing her bra-hook for real.
Monogamy
Lap-dances also allow men in committed relationships to technically claim they haven't had sexual contact with another woman. As I wrote in Sex in patriarchy – how the past shapes sex today, "for the most part [lap-dancing clubs] sell titillation up to, but not crossing, a specified boundary. That boundary may be a topless waitress, a striptease act or a lap dance, but it is in place to give men the impression of sexual liberation whilst technically remaining within the limits of monogamous relationships, as the patriarchal paradigm demands."
With a lap-dance, office Joe gets all the appearance of sexual success without having to deal with the sticky reality that many men are sexually unskilled. For that fantasy he is willing to pay well. It's another pathetic side effect of sex in patriarchal societies.
* There may be some lap-dancing clubs that actually sell full-on sex. Given what these clubs charge for a drink, and given what full-on sex with an escort costs, buying sex in such clubs makes no economic sense.
Photo by Timur Garifov on Unsplash