Čilić at Wimbledon – break down to break through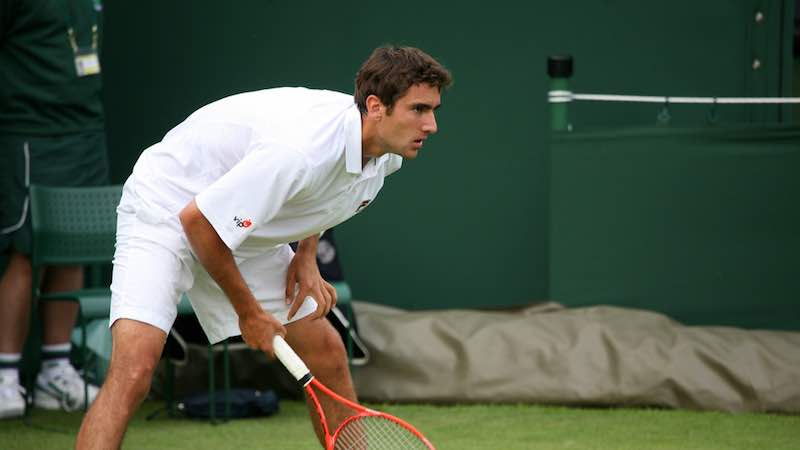 The 2017 Wimbledon Men's Singles tennis final was a date with destiny for Marin Čilić. His first Grand Slam final. Pitted against Roger Federer, one of the best players in the history of the game. Federer was bidding to win a record eighth Wimbledon title. Čilić was clearly the underdog, but he had beaten Federer before. Come what may, Čilić believed that he would make a game of it. He didn't see the truth coming. He would publicly demonstrate the principle of 'break down to break through'.
Čilić started brightly, trading powerful strokes with Federer. Both players held serve in their opening games. The game was evenly poised, enigmatic, riveting. Federer didn't like it that way. Sensing that he couldn't overcome Čilić with power, he slowed his strokes and switched to deft shots. Reacting to one such shot, Čilić went down awkwardly. He was back on his feet immediately and—physically at least—didn't seem affected. The game went on. Federer won the first set but it was by no means game over.
The chasm
Then the chasm opened up and swallowed Marin Čilić. He lost point after point. Federer broke his serve. And Čilić, in turn, broke down and sobbed in front of a worldwide audience of millions. Čilić demonstrated, in an unusually public way, a fundamental principle of development: to break through you first have to break down.
The history of sports is littered with 'bridesmaid' players, players who almost-but-never-quite break through to the big time, the gold medal, the top of the podium. That moment that Federer enjoyed, kissing the gold trophy in the late afternoon south London sun. Upcoming players make it through to their first big final only to discover that, suddenly and unnervingly, there's a gulf between them and the crême de la crême. Most manage to stave off the emotional meltdown until they are safely away from centre court and its prying cameras. Some never recover. Others go away, retreat into stillness, do the necessary inner work and return to become champions.
Some never recover. Others go away, retreat into stillness, do the necessary inner work and return to become champions.
The same principle holds true in our personal lives. We are locked into a stable configuration by the extent of our comfort zone. We have a built-in limit on our achievements, unconscious and invisible. Many people spend their whole lives safely entrenched within its sphere, never daring to challenge themselves. But challenge it and you will hit it, as Marin Čilić did at Wimbledon. Perhaps not so publicly or spectacularly, but it will be just as emotionally challenging for you as it was for him.
Breakdown
To break down requires trust and faith. It requires surrender, letting go and releasing control. It dredges up fear, sets off emotional panic bells, and floods our senses with the whiff of self-destruction. Breakdown is painful, jarring and disorienting. But it is necessary for any significant growth. When a caterpillar climbs into its cocoon, it melts into a soup with no recognisable DNA before emerging as a caterpillar. Only then can the breakthrough happen. Only then can it fly.
On the Wimbledon centre court, Čilić buried himself under a towel. When the umpire called 'time' he returned to the game. The second set was gone but, by the third, Čilić had regained his composure. The last set, even though he lost it—and the match—was his best. He had made a game of it.
Come 2018, there will only be one player at Wimbledon that I'll be watching. Marin Čilić, hoping that he will turn his 2017 breakdown into a breakthrough.
Image: Marin Čilić on the receiving side by Bruno Girin on Flickr