"The world is traumatized" – understanding the 5 layers of trauma
CLEARING THE UNCONSCIOUS – PART 6
An introduction to trauma
"The world is traumatized"
During the trial for the murder of George Floyd, his brother Philonise Floyd spoke outside the Hennepin County Government Center in Minneapolis. "The world is traumatized." Philonise Floyd's words are among the most powerful ever uttered by mankind. They are the words we most need to hear, to reflect on, to act on.
We have a conception of trauma as something that happens to someone else, as the result of some misfortune. The traumas that we are aware of are the tip of the iceberg of buried, mostly inherited traumas that afflict every single one of us. They affect every aspect of our lives and completely shape the society we live in.
"Your conscious action is only a drop on the surface of a sea of unconscious processes, of which you can know nothing—about which, indeed, you are afraid to know."

— Wilhelm Reich, The Function of the Orgasm
This introductory course teaches three key concepts:
The whole world is traumatized—and that includes you
Trauma exists in five separate but interpenetrating layers or sources
Releasing trauma requires us to understand its key principles
Five layers of trauma
Understanding that trauma originates in one of five layers, four of them inherited, provides a framework for working with trauma. The layers are signposts to where we might find sources of trauma in our lives. Some of this trauma is personal to us, while some of it is shared with wider and wider circles—the ripples—of our extended communities.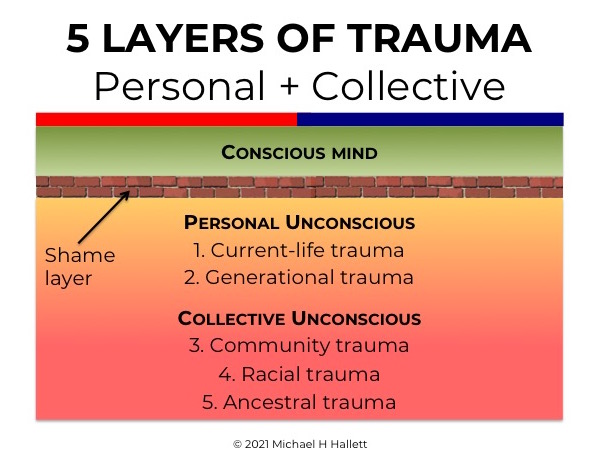 Current-life trauma—trauma from events in our current lifetime
Generational trauma—trauma inherited from our immediate ancestors, typically from unresolved events that occurred to our parents and grandparents
Community trauma—trauma that affects an entire, specific community, such as 'the troubles' in Northern Ireland
Racial trauma—trauma that affects an entire, specific race
Ancestral trauma—trauma inherited from remote ancestors, up to several thousand years old, that affects everyone living in patriarchal societies
The five-layer model of trauma helps us to isolate and identify specific traumas on our way to healing them. Healing them also requires us to understand and master the principles of releasing trauma.
The world is traumatized. Literally.
Part 6 of the 8-part series, Clearing the Unconscious.
Recommended courses
These are not prerequisites but are recommended studies to accompany this course.
Please click on the Curriculum tab for further details
By clicking on Start Course you accept the Terms & Conditions of this course.
Introduction
1
"The world is traumatized" – Philonise Floyd
2
The five layers of trauma
3
Trauma is pain frozen in time
Layers
1
What is generational trauma?
2
What is community trauma?
4
What is ancestral trauma?
Principles
1
The bigger the trauma, the more we defend it
2
The only exit from the past is by going back through it
3
You can only heal a trauma when it's triggered
4
We uncover trauma from the least to the most buried
5
The more you dig out trauma, the more it affects you
Be the first to add a review.
Please,
login
to leave a review
"The world is traumatized" – understanding the 5 layers of trauma