Breaking porn addiction – a 'red pill, blue pill' choice
15 July 2020

Posted by:

Michael H Hallett

Category:

Pornography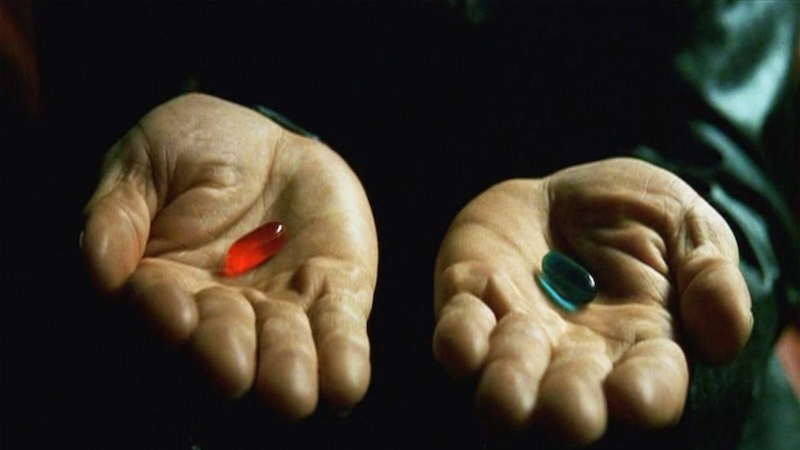 In the Wachowski brothers' iconic film The Matrix, wise Morpheus offers the acolyte Neo a choice. "You take the blue pill, the story ends, you wake up in your bed and believe whatever you want to believe. You take the red pill… and I show you how deep the rabbit-hole goes."
Neo must choose between the blissful ignorance of the blue pill and the brutal reality of the red pill.
If you're struggling with porn addiction, you've got the same 'red pill, blue pill' choice.
The choice lies in the strategy you choose to tackle your porn addiction—either symptom management or root cause resolution.
Trinity has brought you to Morpheus. Take a seat. Morpheus' clenched hands are before you. He opens them, revealing a pill in each palm.
The blue pill
The blue pill is symptom management. This is what most porn therapies try to do. They try to take you back to a place where you can control your porn consumption and the urge to binge.
There are two problems with symptom management.
The first is that you spend your whole life fighting that urge to binge, and that's a horrible place to be.
The second problem is you haven't dealt with the underlying pain that drove you to porn in the first place.
It's like the dry drunk. You're not drinking, but you still act like you're drinking.
You're not looking at porn, but the wounds that drove you to porn still hurt, still affect you, your relationships, and all your interactions with women. No matter how hard you try, no matter how much you pretend—you're still looking at them as sex objects.
The red pill
The red pill is root cause resolution.
Root cause resolution takes you into the rabbit-hole of your own unconscious. It's the only place you can uncover the core wounds that make you addicted to porn and heal them.
It's difficult, painful work. It takes courage. You must stare into the mirror of your own darkness, without blinking, and recognise the damage that's down there. You discover that the rabbit-hole goes a long way down.
"I didn't say it would be easy. I said it would be the truth."

— Morpheus, The Matrix
When you do this, extraordinary healing happens. Your relations with women improve. Your relationship improves. Most of all, your sense of self improves.
You no longer carry the shame of being a porn addict. You've shifted from being part of the problem to being part of the solution.
How do you choose?
Right now, those wounds are buried in the darkness of your unconscious.
With the blue pill—symptom management—you're backing away from that darkness. There is no healing in that. You're just avoiding the issue.
With the red pill—root cause resolution—you go towards the darkness. Into it, like Neo… That's the only place true healing lies.
Image: The Matrix (Warner Bros., 1999)